On route to Tahoe, WT insisted we play the ABC game.
You know, everyone takes a turn and names an animal beginning with a letter through the alphabet.
A - alligator
B - bear etc,etc
After about half an hour of this, interspersed with a couple of I Spy's, I suggested ABC's of girls names, then boys names, then store names.
WT wanted to do school names and so we continued.
Having exhausted our limited imaginations SB decided we should do Cocktails!
He landed the E and came up with Elephant, yeah right ( feckin cheating with an "animal"answer)
The rest of us took our turn and SB got J.
SB - Jumping Jehosaphat! Now there's a grand name fer a cocktail!
Last night SB asked me if I would like a drink ( A village somewhere obviously missing it's idiot)
He offered me an "Elephant"
Hmmm rather tasty.
His Elephant apparently consists of Vodka , Creme De Cassis and lemonade.
(Unfortunately he's one of those bartenders who twitters crap and thinks he's being funny.)
Having slurped through my Elephant and feeling quite relaxed in a " I do so enjoy an Elephant now and again" kinda way, SB asked if I would like to try a Jumping Jehosaphat?
Me- What's in that?
SB - I dinnae ken yet!
Me - I'll pass
Alchemy at it's best, he started mixing "stuff" and mumbling.
He tasted his concoction and began grinning. ( At least that's what it looked like )
SB - Oh, Oh you've got tae try this!
Me - *sighs* and *sips* and WTF?
SB - Good eh?
Me- WTF is in it?
SB - Well, ye see it's the same as an Elephant but ye add some Brandy!
A Jumping Jehosaphat WILL do this to you!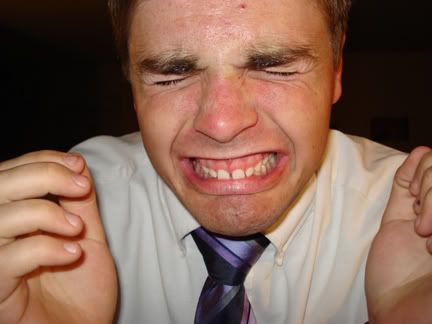 Aye good old SB
As a failure he's a great success!