Sex bomb comes home last night only to find me all fired up about my newly painted blog.
He's reading it, first time whilst not three Glenmorangies to the wind, "oh good god" he exclaims,or words to that effect.
What the hell is wrong with pink and purple? Nothing, but there is an issue with my poll apparently.
"What kind of mother are you?"
Huh
"Not enough that the fish is dead and the child is in tears.You want to put the fish in a feckin zip lock bag, haul it's dead ass along with now hysterical child to Wally World. Spend half an hour looking for an attendant (as usual) only to slap the zip lock on the counter, along with the receipt of course and ask for a friggin refund. Do you want thousands of kids in "dead fish" therapy?
Well when you look at it like that...
"How much does a fish cost anyway?" asks the man who has been watching WAY too many episodes of Nanny911 and is beginning to fancy himself as a parent.
"ehhhhmmm 25c"
"Oh well in that case I would definitely return it!"
Did the whole heel clicking, eyes closed, mantra thing yesterday and remained in my kitchen chair. What did you expect KANSAS?
Alex11 still lurking. WT now wants a Hamster. I do not do rodents. It's non-negotiable! Yeah try telling her that. I had a mouse once, given to me by a boyfriend for my sixteenth birthday. As one of my friends recently said "who would do such a thing?", I was too young for a bottle of wine but hell I'd have been happy with a teddy bear! I detested that mouse, still have no time for them. Mouse faces, mouse ears, mouse tails yeugh yeugh yeugh all wee and wriggly and man do they stink!
The only good thing about mice is by Robert Burns our National Bard :-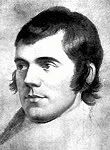 To A Mouse, On Turning Her Up In Her Nest With The Plough
1785
Type: Poem
Wee, sleekit, cow'rin, tim'rous beastie,
O, what a panic's in thy breastie!
Thou need na start awa sae hasty,
Wi' bickering brattle!
I wad be laith to rin an' chase thee,
Wi' murd'ring pattle!
I'm truly sorry man's dominion,
Has broken nature's social union,
An' justifies that ill opinion,
Which makes thee startle
At me, thy poor, earth-born companion,
An' fellow-mortal!
I doubt na, whiles, but thou may thieve;
What then? poor beastie, thou maun live!
A daimen icker in a thrave
'S a sma' request;
I'll get a blessin wi' the lave,
An' never miss't!
Thy wee bit housie, too, in ruin!
It's silly wa's the win's are strewin!
An' naething, now, to big a new ane,
O' foggage green!
An' bleak December's winds ensuin,
Baith snell an' keen!
Thou saw the fields laid bare an' waste,
An' weary winter comin fast,
An' cozie here, beneath the blast,
Thou thought to dwell-
Till crash! the cruel coulter past
Out thro' thy cell.
That wee bit heap o' leaves an' stibble,
Has cost thee mony a weary nibble!
Now thou's turn'd out, for a' thy trouble,
But house or hald,
To thole the winter's sleety dribble,
An' cranreuch cauld!
But, Mousie, thou art no thy lane,
In proving foresight may be vain;
The best-laid schemes o' mice an 'men
Gang aft agley,
An'lea'e us nought but grief an' pain,
For promis'd joy!
Still thou art blest, compar'd wi' me
The present only toucheth thee:
But, Och! I backward cast my e'e.
On prospects drear!
An' forward, tho' I canna see,
I guess an' fear!