Happy 2009 people of the blogaroonie-sphere.
Saturday nights Party left SB and I presumed dead.
Alcohol poisoning will do that to you...just a friendly warning.
Sunday - ? ( I assume it happened)
Monday - Occurred, this I know because two totally unrelated events stuck in my
still intoxicated brain cell.
1. GF visited. Took advantage of my delicate condition and signed me up for
a trip to Victoria's Secret Sale...need I say more? THAT'S how bad I was.
2. Left eye swollen, red puffy.
Me - did you feckin punch me last night?
SB - Whaaaaa? *barf* I dinnae think so *barf*
Me - Well there's something weird going on!
SB -* arf * ( a wee barf = arf )
Tuesday - Occurring but not "happening" with the exception of the now "Cyclops" left
eye. And Yes I also am renound for my hirsuteness...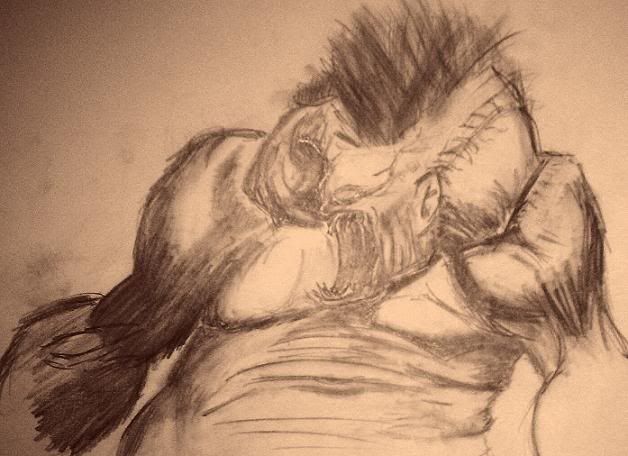 ">
Wednesday - Soberish. Left eye has now taken on massive proportions. Starting at eyebrow, swollen to half way down cheek! Feckin HUGE. I need medical help.
I call my GF to cancel "Victoria". No way I'm going "there" with two droopy boobs and a feckin droopy eye!
I luv luv luv my GF. ( She has historically taught me to function in this US and A including but not limited to ordering a sandwich!) she talked me through calling K#$*er to make an appointment to see a Dr.
Immediately.
I followed her instructions to the letter and was eventually (35 mins listening to some elevator music) told to apply a hot/cold compress. WTF?
Kaiser Incompetent Klingon - If it's a stye then a hot compress. If it's an infection then you need to use a cold compress.
Me - so which should I use?
KIK - Is there a pimple?
Me - Eye acne?
KIK- can you see a pimple?
Me -It's a huge bulbous appendage...no pimple
KIK - Hmmmmm
Me - So can I see a Dr?
KIK - OH NO. Not until Friday. Earliest.
Me - But it's
Hogmanay
and I have a THING where my eye should be!
KIK - Tell you what, do 5 mins hot then five mins cold compresses, that should cover
all bases.
Me - Ehhmm thanks? *hang up*
It's Friday, ET looks like a feckin supermodel compared to wee me.
What was my left eye is now a mushy, red, swollen blob.
I look like a stroke victim.
">
Is the eye stye a 2008 epidemic? I'm feeling for the gal above. She is my soul mate.
Poor baby.
So begins 2009.
I'm entering it with "one" eye wide open, the other...not so much