Sarcasm, the best thing Scotland has to offer.
I'm on my high horse today,again,regarding the non-existence of sarcasm here in California.
California specifically because our friends from other states do not suffer from this condition.
SB and I had a long chat about it this morning and agreed wholeheartedly that we find ourselves in annoying situations because we cannot resort to our natural instincts and just be feckin sarcastic because:-
1.We wouldn't bluddy dare do it here for fear of committing a mortal sin.
2.We wouldn't bother here because the effort would be wasted...WHOOOOSH over the head.
Scenario dependent upon recipient.
Back in Scotland sarcasm is regarded as wonderful tool which allows you to talk back but not cause offense.
It's referred to as " half jokin, fu' earnest"
Example,
This a.m., SB sits down with a cup of coffee.
Me - Where's mine?
SB - In the pot.
Now that's funny!
We made a decision.
To stop being all touchy, feely and get back down with our bad selves.
If anyone on the receiving end is offended, tough.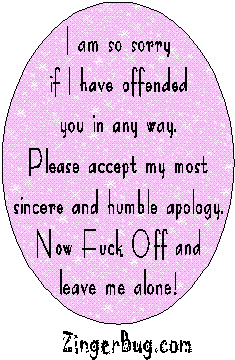 For those, who shall remain oblivious, YES we're laughing at YOU!

I am really looking forward to being normal again!