Yesterday heralded the question no parent wants to hear.
WT - Mommy is Santa real?
S@#t S#@t S@#t !
- Of course he's real. (F@#&K)
- All the kids in my class are saying he's not ( little S@#Ts)
- Well I think he is! ( help? )
- You would tell me if he wasn't mommy, right?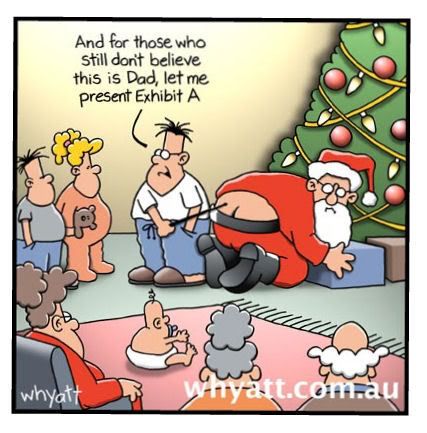 It's a complete dilemma at this point.
Just last week the Sex Bomb was twittering on about WT and her "nerdyness" ( is that a word?)
SB - I think you need to talk to WT
Me - About?
SB - Well she's wearing some pretty weird things to school these days and having a violin case in her hand does nothing for her image.
Me - She's wearing her school t-shirts for goodness sake, what's wrong with that?
SB - She's the only kid in school wearing a school T-shirt?
Me - So?
SB - Well The Child Iseult never dressed like that.
Me - No, she was totally normal in a pink tutu, jeans, a bleached "save the dolphins" shirt and a green ball cap huh?
SB - Well I just don't want her to be made fun of.
So IS Santa real?
WT - I know the tooth fairy and the easter bunny aren't real.
(Ok there's some hope here. Gently gently catchy monkey.)
Me - Well if you know they aren't real ...
WT - He's not real is he mommy?
Me - Awwww sweetie...
WT - I know mommy.
Me - (trying to be funny...looser that I am) Well now you know how hard it is being a mommy when you have to flap your wings, go hippity hop around the yard and do the HoHoHo thing too.
WT - WWWWWWWAAAAAAAAAAAAAAHHHHHHHHHHHHHHHHHHHHHHHHH
Inconsolable meltdown for half an hour.
Parents are just BIG FAT FRIGGIN LIARS.
Of course Santa is real! DUH