I've never done particularly well in water.
It's wet.
If god had meant us to be immersed in water he'd have given us gills or fins or some other fishy thing to make it easy. Six years of swimming lessons do not count.
Money down the drain.
Hey that was a wee bit funny.
Drain, water, oh hell forget it.
I paddle in the sea. There are bad things, big bad fishy things in there for feck sake, why would you want to go any deeper than your tootsies?
I've recently uncovered some really weird shyte going on in the water, large fish are the least of my problems these days.
Get this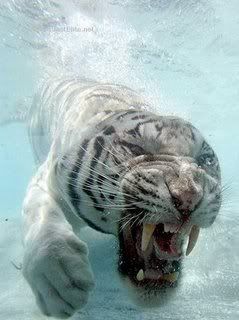 And that's not the best bit!
"after he was weaned, his British trainer, Lee Munro, discovered his remarkable skill. 'He makes a ferocious face - and it's actually to close his nostrils to stop the water from going into his nose"
HA, HA, friggin feckin HA, do I really look THAT stupid?
"Oh yes he's just plugging his nose, nothing to concern yourself with."
Oh okay great, I'll just dive in and do a few FECKIN laps then shall I?
Then just when I thought I'd seen it all...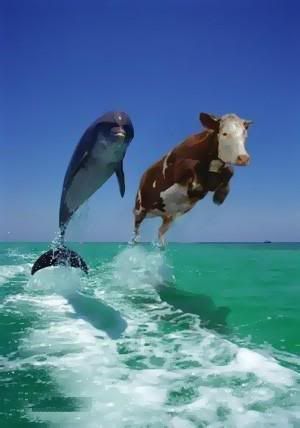 Oh yes dear reader even the "Coo" has taken to the deep.
Feckin Flipper meet Feckin Flora.
Not only am I now to be terrified of big feckin fish, I have to beware of feckin ferocious faced tigers and Moooove over there's a stampede of feckin floras on the loose.
I am going now to take a shower. Safe water.