Scoot is off school today.
Columbus Day apparently.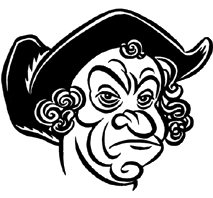 The girls schools are not participating.
So I thought I'd do a wee bit research.
Here's what I know now.
Many countries in the New World and elsewhere celebrate the anniversary of Christopher Columbus's arrival in the Americas, which occurred on October 12, 1492 in the Julian calendar and October 21, 1492 in the modern Gregorian calendar.
(Okay,so the actual date is a tad ambiguous.)
The city of Berkeley celebrates Indigenous People's Day instead of Columbus Day every year with a pow wow and Native American market.
(Okay now I'm totally confused.)
The Columbus Day parade in Cleveland takes place in the Little Italy neighborhood near University Circle. The day begins with Mass at Holy Rosary Church which features the combined choirs of the four historically Italian Cleveland area churches - Holy Rosary, Holy Redeemer, St. Rocco and Our Lady of Mt. Carmel. The parade then goes down Murray Hill featuring over 100 units and a dozen marching bands.
(Go Cleveland!)
Since the later part of the 20th century groups have voiced opposition to Columbus celebrations. Indigenous groups in particular have opposed the holidays as celebrating the man who initiated the European colonization of the new world. Opposition often focuses on the cruel treatment indigenous peoples faced at the hands of Columbus and later European settlers and the fact that the European conquest directly and indirectly caused a massive decline in population among the indigenous peoples.
In the summer of 1990, 350 Native Americans, representatives from all over the hemisphere, met in Quito, Ecuador, at the first Intercontinental Gathering of Indigenous People in the Americas, to mobilize against the quincentennial celebration of Columbus Day. The following summer, in Davis, California, more than a hundred Native Americans gathered for a follow-up meeting to the Quito conference. They declared October 12, 1992, International Day of Solidarity with Indigenous People. The largest ecumenical body in the United States, the National Council of Churches, called on Christians to refrain from celebrating the Columbus quincentennial, saying, "What represented newness of freedom, hope, and opportunity for some was the occasion for oppression, degradation and genocide for others."
Aha, NOW the pow wow makes sense.
Old "Chrissie" just plain underestimated the earths circumference.
The dude thought he had made it to East-Asia after all and didn't mean to be cruel to the Native Americans, no, he meant to be cruel to the Asians.
After all, what's wee bit navigational error between indigenous people!?
Oh the shame of being European.